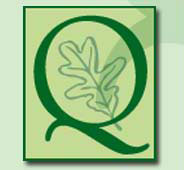 WHY IS IT CALLED QUERCUS?
Many people have asked why I call the project Quercus.
The simple answer is that my wife liked the word.
The more complex answer is that it pleased me for several reasons –
The site is intended to showcase predominantly British SF (although no-one is excluded) so the fact that Quercus is the latin name for oak meant that it evoked the very British idea of Hearts of Oak.
The punning of Quercus and Quirk appealed to me. We're not doing po-faced literature here, this is meant to be fun, and the quirkier the better.
It would allow me to call the workshop side of the site the Quirkshop.
I couldn't find any other publishers of fantastic fiction that began with a Q.
I adore the typographic possibilities that the letter Q affords me.
I could also offer a really pretentious symbolic interpretation of the letter Q and how it represented my philosophical goals, but even I wouldn't have taken that seriously.
Finally, it appealed to me. Do I need a better reason?

WHY CAN'T I SEE THE WHOLE PAGE?
The page is designed to be viewed at a resolution of 1024x768 as this is the standard screen resolution at the moment. If you are viewing at a resolution of 800x600 or less, the right hand side and the bottom of the screen are probably not visible. There are scroll bars but you still can't scroll to the bottom of the page.
There are in fact two scroll bars at the bottom of the screen, and two at the right hand side. The inner ones are on my page. The outer ones are in your browser. If you use the ones on my page, you will not be able to see the bottom or right of my page, as your browser is usurping them. You need to scroll using the outer scroll bars first, so you can see the little Quercus logo in the bottom right. Now you can scroll using my inner bars.
I haven't been able to find a way around this. I can't make the page size fit your screen dynamically and I can't make it any smaller without making it unusable for reading fiction. So I have to hope you will be patient and scroll around the page or change your screen resolution to 1024x768 or higher.
[back to the top] | [home]
---



IT'S A BIT EXPENSIVE, ISN'T IT?
It did occur to me that a subscription to Quercus might initially seem expensive. But I have just spent ten years helplessly watching as a good man drove himself into the ground trying to make a science fiction magazine run on a shoe-string. What I am producing is worth what I charge. If you agree, you will buy it. If you don't agree, you won't buy it and I will cease publishing when my money runs out.
It's up to you. You can have a superb hardback collection of new short stories twice a year or not. If I make embarrassing amounts of money, I will plough it back into the site in the form of higher payments to authors in order to ensure the best fiction comes our way. If I break even I will be happy, and I hope you will be too. But I will not subsidise the venture beyond the initial outlay to get the first two books published. If it is not paying for itself in a year's time, I will have to seriously consider closing it down.
Submissions policy
Submissions are by invitation only.
With the advent of the internet, it has become too easy to submit a story. This makes writers lazy and they will submit their work without due consideration of whether or not it is actually suitable for the market they are approaching. In turn, this means the editor at the other end can get swamped – the pile of unsolicited manuscripts at interzone frequently stood higher than the editor in his office. Imagine how many manuscripts I might receive electronically if I made submission open.
Professional and semi-professional authors are invited to submit by the editor.
Novices, whose work is unlikely to reach our standards, are invited to submit their manuscripts to the on-line workshop www.sendmeastory.co.uk where their work will be professionally assessed and commented upon.
If they agree, both their work and the response letter will appear in the workshop area of the site. The fee for this does not nearly cover the work involved. Furthermore, all manuscripts received are considered for inclusion in the Quercus-SF collections, so if any are accepted, the submission fee is recovered within the payment for the story.
The workshop fee is little more than the cost to print out a hard copy, put it in an envelope with return postage and post it. It should also make potential submitters consider carefully whether or not their story is suitable for Quercus-SF.
With this in mind, as subscribers to Quercus-SF are more likely to be fully aware of the type of fiction we require, they may submit their fiction to the workshop without further charge.
WHO IS THIS PAUL BRAZIER PERSON?
Hi, I'm Paul. I'm your editor for this site. I hope you have a wonderful time while you are aboard and that you will come back often.
I launched a science fiction magazine, SF Nexus, in 1990. It proved very difficult to get it into circulation, so it limped along for four years until David Pringle and I agreed to merge it into Interzone in 1994 with me taking on the role of Production Editor for Interzone. Over the years since, I have guest-edited occasional issues of Interzone, continuing the SF Nexus tradition.
It has been plain to me that interzone was failing as a print magazine for the past couple of years, so I was quietly developing an electronic alternative with the hope that we might be able to migrate the magazine to the internet and turn it back into a self-funding proposition.
When David Pringle announced he was ending his involvement with the magazine, I took the opportunity to demerge myself as well and this quiet development became suddenly accelerated and very public.
As I have had to set up all the back office services from scratch, it has been a bit of a scramble. However, I hope it has been worth the wait.
The site will stand or fall by my reputation and the quality of the fiction that I bring in. Take a look at my achievements as guest editor of interzone and editor of SF Nexus to see what you can expect from the future with Quercus SF
S U B S C R I B E T O D A Y
A single one-year subscription costs £60 and includes –
Unlimited access to the site and some of the finest fiction in the world
almost as soon as it is written.
That fiction collected into two collectible hard-back books a year
The chance to be published yourself – subscribers may submit stories to our on-line workshop, sendmeastory.co.uk, without further charge
Plus much more to come in future
To subscribe, use your credit card to pay via PayPal. They ask you to open an account but it costs nothing and short-circuits their usual laborious sign-up procedure.
Or send a cheque payable to Quercus-sf (please, sterling only) – to
Quercus SF subscriptions
98 Hythe Road
Brighton BN1 6JS
UK
Don't forget to include your name and address.
SPECIAL OFFER – SIX FOR THE PRICE OF FIVE
Subscribers who buy five subscriptions qualify for a free subscription. You could help Quercus-sf by recruiting new subscribers and benefit yourself with a free year's subscription.
You could even subscribe for six years for yourself, with the sixth year free. This would be a great hedge against price increases.
Or combine the above – recruit new subscribers and make the numbers up to six with an extension to your own subscription. The six for the price of five offer will still hold.
To take advantage of this offer, click on the Paypal button below and fill in your usual details. Include the addresses for the other five subscribers – don't forget both email and snail mail addresses – in the send a message box
Alternatively, send their names, addresses and email addresses by terrestrial mail to the above address, but don't forget to include full payment of £300.Any questions, email me at
quercus information