Christmas had been a bad time for me for most of my adult life. So I never used to send Christmas cards. I was suffering from extreme bah humbug syndrome.
One Christmas, about 1987, I started to enjoy it. I had acquired two beautiful flatmates, both studying mime, who took me to loads of parties that year. This particular day, Janit had been to the theatrical shop and on the London Underground, on the way home from one of these parties, she showed me what she had bought, and I put the things on and wore them all the way home to the great delight of our fellow passengers. She took a picture of me in this condition, and I was so pleased with the result that I had thirty copies made and sent them to people as greetings. That's the picture, in the middle of the page.
I had not yet teamed up with Juliet, but we were part of the same social group. That year she made a card too, and I received one. I will put a copy of it here if she doesn't mind (and when I find it).
So when we did get together, it seemed a natural progression for us to produce a Christmas card together, and our first effort was a simple pictogram puzzle (which again will be here when I find a copy).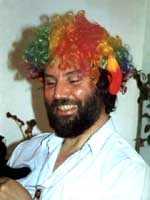 The next year we thought it might be fun to do a little story, and we have done one most years since.
I had intended to put together a little book of the stories for Christmas 2000, but like many other plans it has had to be shelved and here we are fifteen years on and it's still in the planning stages. Meantime, we decided to put them here for anyone who wants to look at them. Obviously, this year's is on there now, and others are being added as I find them (some of them need to be retyped -- I haven't always had a Macintosh!)
So, if you're a new reader, take them slowly. They have to be very condensed to be fit into a Christmas card, and the diet might seem rather rich. If you're a long-time reader, welcome again. We hope you enjoy them as much this time round.
2012-2015 postscript
I've not been well, so our story factory hasn't been working very well either. There have been missed years and in 2011 in desperation I sent out an Oliver Onions story I love. Having almost got back up to speed, we are in our usual bind of having finished the card too late to send it out. Paper copies are on their way to some of you via the belated 2nd class post but the good news is that I have managed to get both last year's and this year's onto the site. Now, what was that about the Folk Diary...